Skin Cream
Light, non-greasy skin care solutions to oily and different skin combinations! Enriched with the real essence of fruits, aloevera and gold, Cosmo Herbal's skin cream imparts a glowing, and porcelain look. For best results, use it twice daily.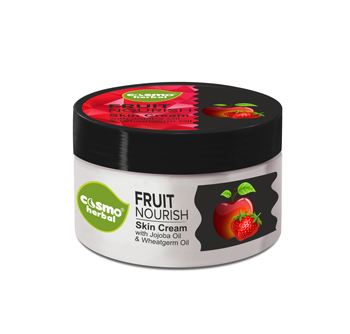 Fruit Nourish Skin Cream
Skin nourishment like never before! Introducing CosmoHerbal's Fruits Nourish Skin Cream that comes enriched with real fruit extracts and a whole lot of natural oils (Jojoba Oil & Wheatgerm oil) for an all-day moisturization. Ideal for skins of all types, the nourishing cream is known for its supple and smooth effect it leaves on your face. Besides, its triple moisturising mechanism is highly effective in improving skin elasticity and offering a healthy look.
Available in 100gm, 200gm and 500gm packs
When it comes to active skin nourishment, fruits are the real deal. Being rich in flavanoids, anti-oxidants and necessary vitamins, the formulation works effectively in rejuvenating the skin, even if its chapped or dry
Buy Now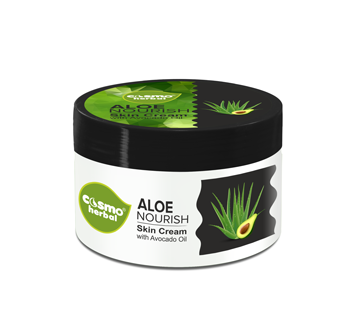 Aloe Nourish Skin Cream
If you are in for only creams, then also we have a solution for your drying skin. Highly enriched with Avocado oil, this suitable to skins of all types Aloevera cream penetrates deep in to the pores and maintains the natural oil balance of the skin.
Available in 100gm, 200gm and 500gm packs
Aloevera since ages is the prime remedy for skin nourishment. It is rich in nutrients majorly required for maintaining a good skin health. Besides, Aloevera also reduces stretch marks and visible signs of ageing if applied as a skin cream.
Buy Now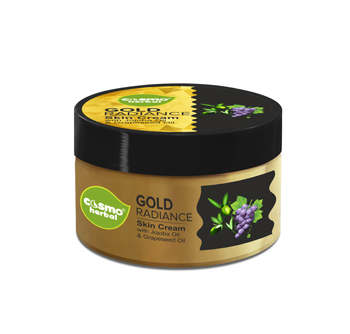 Gold Radiance Skin Cream
Cosmo Herbal's Gold Radiance Skin Cream works just fine in magnifying the skin's inner beauty. Its regular usage diminishes the appearance of dry lines and restores the natural balance. Besides, it also acts as a protective barrier from harmful UV rays, wind and pollution.
Available in 100gm, 200gm and 500gm packs
Been in practice since ages for skin care, gold helps in restoring the perfect oil balance, diminishing the imperfections of the skin, softening the texture and imparting a smooth supple effect to the skin
Buy Now